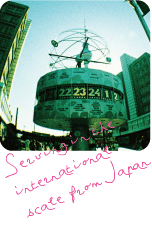 COMPANY PROFILE
Fine Gear Co., Ltd.
1332 Higashi Nakano, Kasukabe, Saitama,
344-0114, Japan
January 30th, 1953
(1) Import and distribute the interrior products, design objects, porcelains, stationery, accessories, textile products for wholesale business.
(2) Management of web store and retail store with logistics and transport.
(3) Own production for the brass and metal design items by lathe engineering and techniques.
4,000,000 Yen
Mitsuo Naminoue
Daisuke Naminoue (Executive Director)
www.finegear.jp
contact@finegear.jp
COMPANY HISTORY
Yukio Naminoue (founder, engineer from Seiko factory) established the company which to produce the precision metal and brass products for watches, clocks, and car interiors over years.
Mitsuo Naminoue took over the company in 1975 as successor.
The company started to supply the precision parts for medical and surgery items, started to contribute universal and international products.


Fine Gear Co., Ltd. has developed the own international business team as import and distribution department.
Daisuke Naminoue, who is marketing & business director, educated in Parsons School of Design (US), the former Japan representative of Lomography (Austria), joins to start the European interior & design products for Japan as new chief.